Home and Garden designs
Tracery 157 offers custom work including copper tables, planters, garden gates, fireplace screens and onsite installations in your garden or home.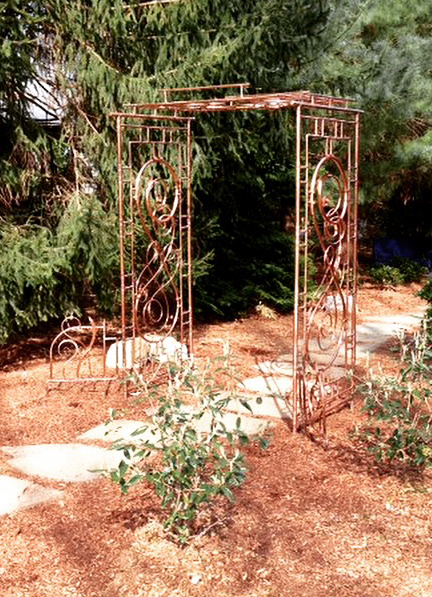 Heather's Arbor
This custom arbor was designed as an entry to a private garden. Measuring 8' x 5' x 3', this is my largest all-copper installation to date. I will return on site later this summer to add a verdigris finish to the border of the design.
Copper Kitchen Valance
The design for this custom kitchen valance incorporates a symmetrical hand-fit tracery arch with cold-forged tendrils.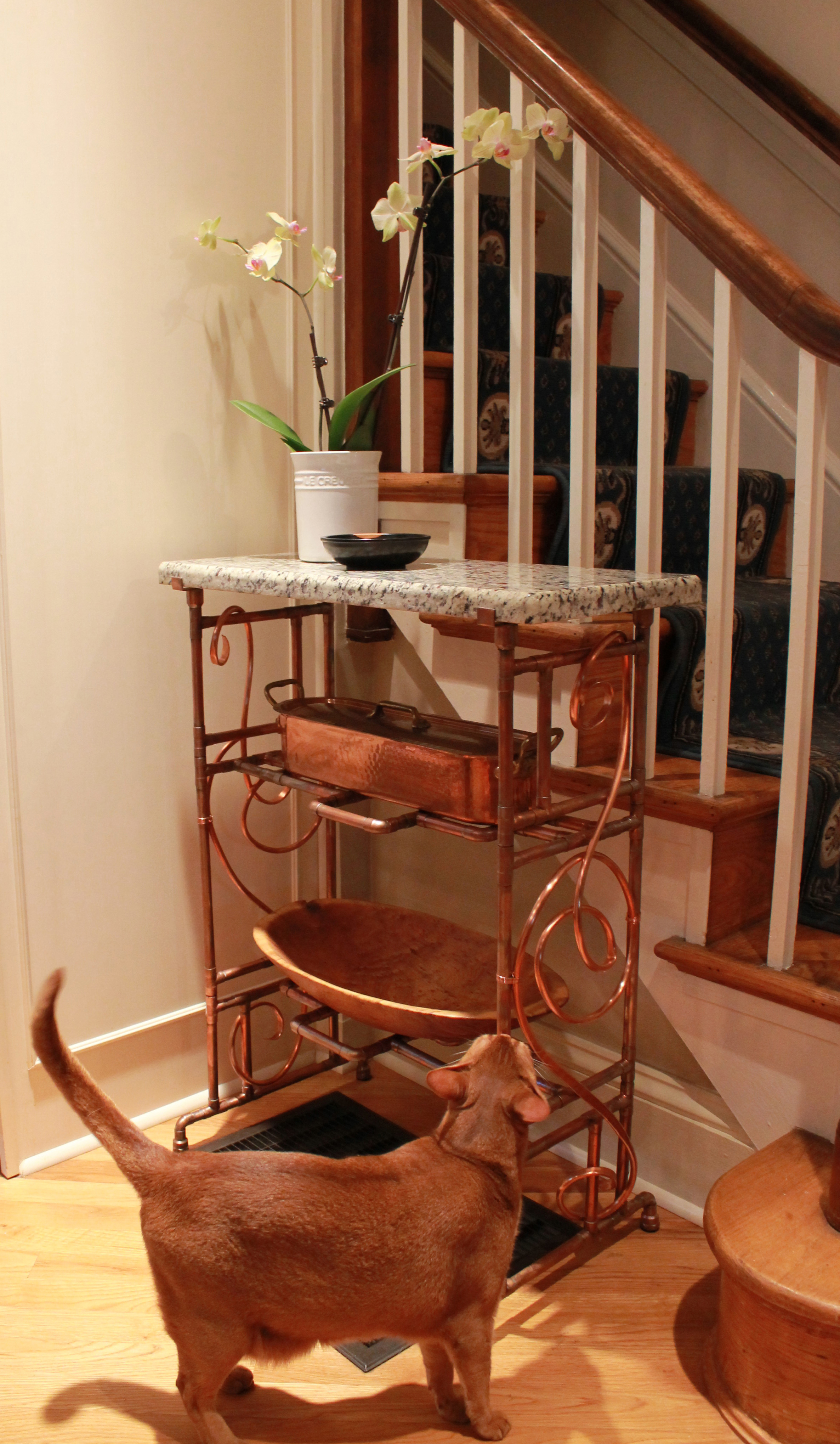 Granite and copper table
This table was designed to fit a customer-supplied granite slab, re-purposed from a cutout from their kitchen counter top. The table needed to have open-work shelves as it would be positioned over an HVAC return. The side detailing was cold-forged by hand and is evocative of grapevine tendrils, apropos for a wine-loving client.
Zack inspected my handy work when the table was installed. I think he approved.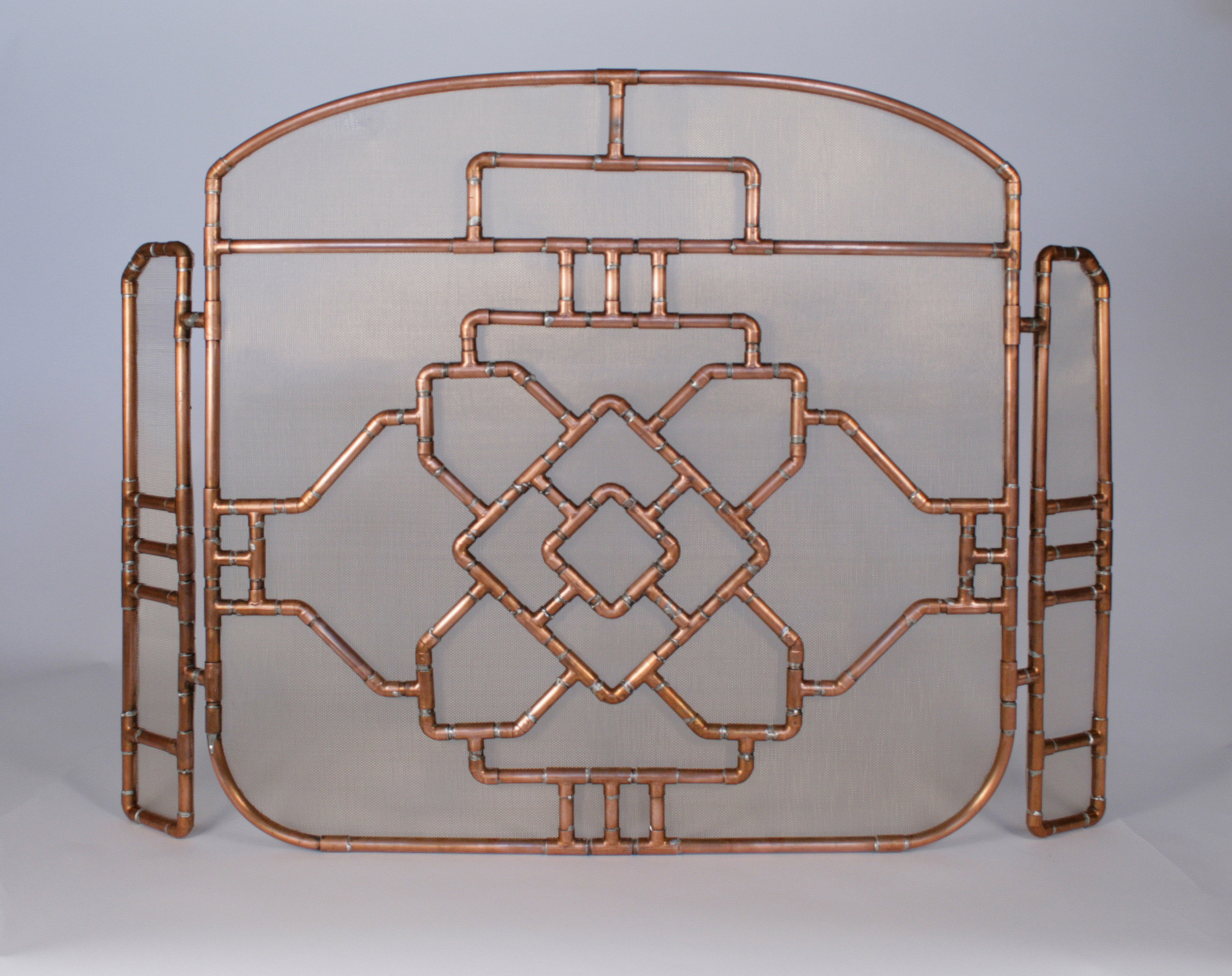 Arts and Crafts fireplace screen
Commissioned fireplace screen, designed to fit a 1920s-era working fireplace. Custom built with soldered and polished tracery work, articulating sides. Back is faced with brass screening.
Copper and pine planter box
Custom copper tracery fitted into a reclaimed heart pine box. The box is lined with coir and the plants are nestled in the copper work, secured with wire and surrounded by moss to enhance moisture retention.
Dimensions: 48" x 12" x 4"
Copper and stone fireplace insert
This custom-built fireplace insert features fitted panels and cold-forged detailing. This piece was designed for a non-working fireplace, and has a silver travertine stone platform for pillar candles.
Mission-style front gate
This verdigris copper gate makes a welcome entrance through a living ivy fence to this 1920s-era home.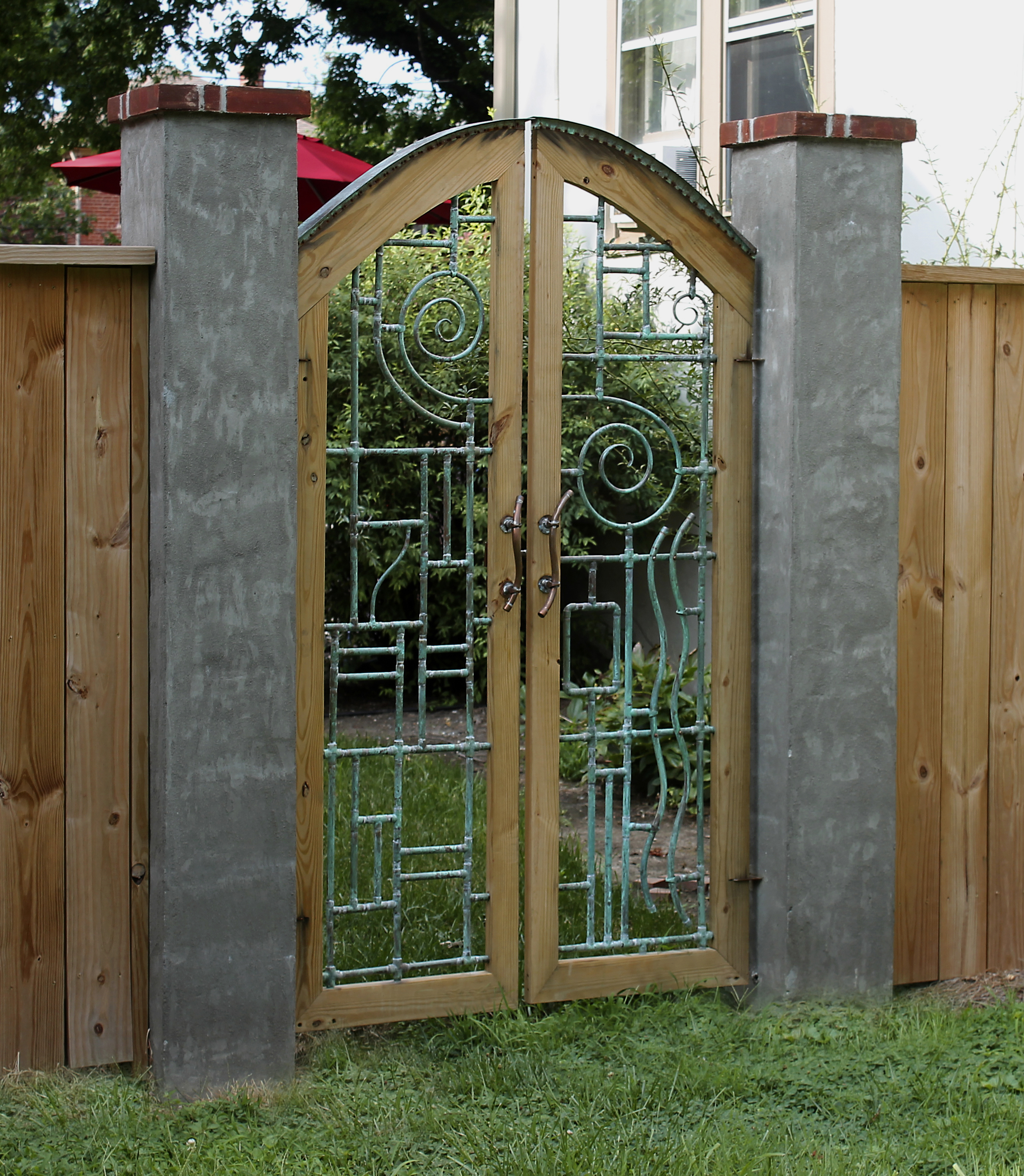 Double front gate
This pair of open-work tracery gates is set into wood with a copper-clad top. Done as a collaborative project with the Sliver and Splinter shop, the hinges are set into concrete columns, and the gate articulates 180º.
Wooden fence, framing and installation, The Sliver and Splinter Shop, Richmond, VA
Copper railing inset
This copper railing was designed for a stepped deck. Three copper panels are inset into the wooden top and bottom rails, and have a light verdigris finish.
Wooden deck and installation, The Sliver and Splinter Shop, Richmond, VA
Seussian bird feeder tree
This whimsical design incorporates free-form cold-forged copper branches for hanging multiple small birdfeeders. The squirrel baffle is a purchased steel cone, painted with faux verdigris. The branches are soldered together and slip over a central iron pole which mounts in the ground. There is a handle to rotate the 'tree' around the pole for easy feeder refills. This piece is 10' high at its highest point.
Copper, stone and wood privacy panel
This privacy panel was designed to fill a space in the clients' newly-installed stairs. The wooden panel was built to match the existing woodwork, and serves as a base for three open-work copper panels. Those panels are hand-aged, and each has slate insets integrated into the design. The copper panels are overlapped and offset-mounted at varying depths on the wooden panel. The face bolts around the edge of the wood are clad with matching verdigris copper caps.
Wooden panel and installation by Alton Ayer, The Sliver and Splinter Shop